Brenda Tracy carried the football helmet in her left hand. It had a red S for Stanford, the white outline of a tree and a purple and teal ribbon commemorating Tracy's "Set The Expectation" campaign to end sexual violence. She was given the helmet during halftime of the Stanford-Arizona State game on Sept. 30 — a game dedicated to Tracy and her efforts.
After the final seconds ticked off, she walked around the field as players celebrated around her. Someone suggested she join the Stanford players as they sang the alma mater after their 34-24 victory. That wasn't among the scheduled events on this busy day for Tracy, so she checked with team officials to make sure it was OK. Told it was, she took her place at the end of a line of players and put her right arm around No. 19, cornerback Noah Williams, and held her helmet high with her left.
It was an unprecedented marbling of college football and anti-sexual assault activism, two industries often pitted against each other. For Tracy — who was gang-raped in 1998 by four men, including three college football players — it was "one of the greatest moments of my life."
If 2017 was the year the public shined a bright and long overdue light on sexual abuse, it did so in part because women like Tracy pulled it from the shadows. As the #MeToo and #TimesUp movements rock Hollywood and other high-profile industries, Tracy has become the face of the anti-sexual violence movement at the college sports level.
In the last 18 months, she has spoken to athletes at more than 50 schools, sharing her story of rape, shame and redemption and insisting that the solution to the sexual violence problem is men doing the right thing — whether that's players knowing what consent means, coaches dismissing violent offenders or men simply speaking out. She has also worked to change laws across the country, given countless survivors an advocate and found peace in her own life that evaded her for 16 years.
"This is the same football machine that created my gang rape," she said on the field, her eyes wet with tears, her adult sons Devante and Darius by her side. "And now I'm standing with a football team holding up a helmet. Who would have thought that would happen? It's a full-circle moment. This is where healing happens."
That healing began in 2014, when Tracy decided to stop hiding her gang rape as an untellable secret and instead talk about it, first in a newspaper story and later in speeches before dozens of college athletic teams and other organizations. Part of her success as an activist stems from the fact she has an easy charm, sense of humor and vulnerability that offer an almost inexplicable contrast to the horror she survived. "You don't really understand what redemption is until you've been where I've been," she says. "I've seen evil. So I know what love is."
---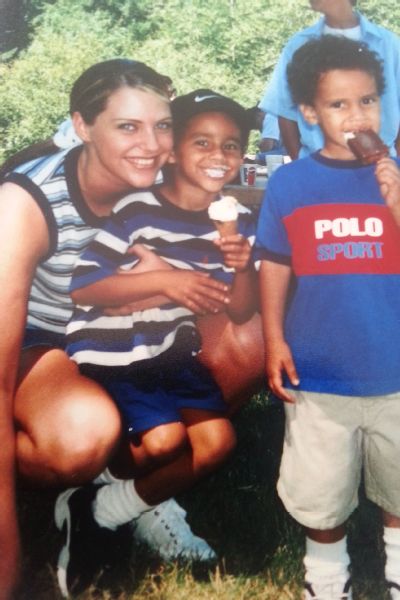 SHE SAYS SHE was unconscious for most of it. In 1998, Tracy, then 24, had gone with a friend to that friend's boyfriend's apartment in Corvallis, Oregon, where other men were hanging out. She later told police she felt like she had been drugged, though a toxicology report came back negative.
Tracy says four men, including three college football players, raped, violated and assaulted her in the early morning hours of June 24, 1998, as she drifted in and out of consciousness. Later that morning, her mom, Deanna Walters, took her to a women's crisis center, then the hospital. Tracy also told the police, and the four men were arrested. The story generated extensive news coverage, as two of the suspects played for Oregon State.
The stress of the public attention added to Tracy's pain. Authorities told her the case could take years to work its way through the judicial system and that she would have to testify in four separate trials. She didn't want to put herself and her sons, then ages 4 and 5, through that. She decided to stop cooperating with authorities, and charges were subsequently dropped.
Inspired by a nurse who treated her after the rape, Tracy enrolled in a community college a few months later. She graduated from Oregon Health & Science University with a bachelor of science and nursing degree, later earned an MBA and landed a job overseeing an acute mobile dialysis team. You could have told her life story at that time as one of overcoming incredible wrongs committed against her — in addition to the gang rape, Tracy says she was sexually abused by a family member as a young girl and raped by a babysitter's boyfriend when she was 9. But inside, she was broken. She carried shame as her constant companion.
She remained angry in particular at Mike Riley, the head coach of Oregon State when the rape happened. He suspended the two Oregon State players for only one game and was quoted as saying they had made "a bad choice." That comment burned her for years: a bad choice. She hated him more than the rapists.
One night in 2014, after reading a story about Riley's handling of a then-current player arrested on violent charges, Tracy wrote an email to the journalist who wrote the piece, Oregonian columnist John Canzano. In it, she described what had happened to her and the 16 years of misery since then.
Canzano responded immediately, the two met for coffee, and Tracy told him her story. In addition to sharing the horrific details, Tracy allowed the Oregonian to use her name and picture — a courageous decision considering the way the sports world treats rape survivors. But Tracy says her motivation was desperation. She could not go on living the way she was, and she thought telling the truth might help her, no matter how painful sharing it was.
Tracy told Canzano a harrowing story that she has since shared with hundreds of athletes: During the assault, she couldn't move her arms or legs. The suspects treated her like a rag doll, "picking me up and tossing me around the whole apartment," according to the Oregonian. She woke up the next morning on the floor, naked with a blanket over her.
Before the story was published, Tracy and her mom worried about the reaction. What would happen when she put her name and face on the story? What would telling the truth do?
She didn't know. But she was done living a lie. "The minute before it went online, I was living a double life. The minute it went online, I became one person," she says. "I walked out of my prison of shame and silence that day. I am just emboldened that I am never going back to that prison, and I'm going to take as many people with me as possible."
Three years later, that new singular life has taken her places she never could have imagined, from arm in arm with Stanford football players in the corner of Stanford Stadium to meetings with politicians across the country to the inner circles of power in the NCAA.
Telling the truth has allowed her to push for the passage of no fewer than seven pieces of legislation in Oregon and helped untold numbers of sexual assault survivors. She has routinely been interviewed and spoken at dozens of colleges across the country. And most important for her, she has forged closer relationships with her sons, Darius, 25, and Devante, 23. She says for years she wanted to kill herself, but their very existence didn't allow her to, and she resented them for it.
Which makes her next statement so unexpected: She says she wouldn't go back and undo the rape, even if she could. "I've thought about this a lot. Do I really mean that? I really do mean that," Tracy says. "Everything that happened to me — the egregiousness of it, the ugliness of it, the horror of it, the way it was mishandled, every single thing that happened — has put me where I am today. If all of that had not happened, I would not be where I am, right now, today, this minute, talking to you. I am absolutely living in my purpose. I am so honored, and I feel so privileged, to be in this position. I feel chosen."
---