We might be eight months away from the start of the 2018 season, but it's never too early to think about putting a little money down on season-opening games. Not that we condone betting here at 247Sports, of course. We just firmly believe in planning ahead for potential financial investments – we look out for you like that, folks.
So with the initial betting lines released from 5Dimes, we're taking a look at some lines that are too high and too low in January.
RELATED: Check out 247Sports' way-too-early Top 25
Alabama (-29 ½) vs. Louisville: Too High
Yes, Alabama is the defending national champion. And yes, Louisville will play its first game without Lamar Jackson under center in two-and-a-half years. But that's no reason for Vegas to treat the Cardinal like they're Blue Mountain State. The Crimson Tide should roll in this one, yet 29.5 at a neutral venue is still a crazy high line. Remember, four of Alabama's last five season-opening games have been wins by 18 points or less. And yes, Michigan and USC fans would remind you Alabama is quite capable of pummeling a team Week 1. But 29.5 just seems like a bit too much even for Alabama, especially since we don't know who will play quarterback, who will make defensive play calls and what the starting secondary will look like. Remember, Louisville's only season-opening loss since 2011 came against Auburn two years ago by just seven points.
Arizona (-7 ½ ) vs. BYU: Too Low
Consider me bullish on Arizona under Kevin Sumlin. Khalil Tate should only get better under Sumlin's guidance, and the Wildcats' offense will remain explosive. As for BYU, it was one of the biggest disappointments in college football this past season. Don't expect the Cougars to go 4-9 again in 2018. But also don't expect an offense that finished 124th nationally a year ago to keep up with Arizona.
Texas (-10) at Maryland: Too High
Um … does anyone remember when these two teams played last year? That was far from Texas' best effort, but to make the Longhorns a 10-point favorite on the road is a bit of a stretch after the Longhorns lost by 10 at home to start the 2017 season. Though, one might credit Vegas in some ways. It dropped the line a little. Texas, a year ago, was actually an 18-point favorite over the Terps. Both Texas and Maryland lose a lot of production coming out of the 2017 season. The Longhorns should be a better team than Maryland, but Kasim Hill and Tyrrell Pigrome already proved they could carve up the Longhorns once. I'd pick Texas, but that line is just a bit too high for my tastes.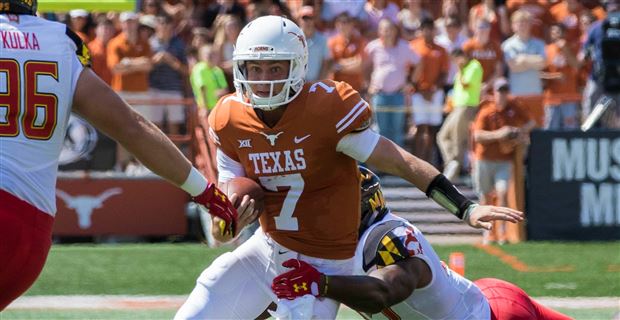 Oregon State at Ohio State (-31): Too Low
Remember what I said about the multi-touchdown line for Alabama? Well, throw that out the window for this game. The Buckeyes should dominate in Week 1 at the Shoe against an Oregon State team that won just a single game a year ago. The Beavers will have a new coach, a new quarterback and will be without star rusher Ryan Nall, who declared early for the NFL Draft. Oregon State should get better under Jonathan Smith, but I wouldn't expect much of the improvement to be shown against a top-5 Buckeyes team on Sept. 1.
Auburn (-4) vs. Washington: Too High
The Tigers do have a built-in advantage with this game being played in Atlanta. Auburn fans will be able to make a painless drive while those in Seattle will have to fly cross country. But the Huskies do return a ton of talent and will be the far more cohesive unit come Week 1. That comes with the territory when they return so many starters, including key pieces like Jake Browning and Myles Gaskin. Auburn, meanwhile, should be quite talented again. They're are also replacing a ton of offensive and defensive production. I'd consider this game a push, personally. But I would also happily take the points with Washington.
Other Interesting Lines
West Virginia (-8) vs. Tennessee: The Jeremy Pruitt era gets underway in difficult fashion against a West Virginia team that should be considered a Big 12 dark horse. At (-8), I like the Mountaineers at the moment.
Texas Tech vs. Ole Miss (Push): The Red Raiders are playing in their home state, are doing so against a team that's been hit by sanctions and that will have dealt with an offseason of distractions. Ole Miss remains a talented team at the top of the roster, but give me Texas Tech straight up here.
Michigan at Notre Dame (-2): No surprise to see Notre Dame open up as a favorite, but I wouldn't touch this game right now. There are just far too many unknowns for both programs at this point in the calendar.
San Diego State at Stanford (-15): One of the biggest shockers of the early 2017 season was San Diego State felling Stanford. I have a hard time picking the Aztecs again, but I'd think about them as 15-point dogs. Stanford is hardly going to blow you out offensively – its style doesn't often allow that – and there's a reason why San Diego State has won 10-plus games the last three seasons.
Florida Atlantic at Oklahoma (-21): Expect this game to be a shootout with two of the nation's top-8 scoring offenses from a year ago clashing. Florida Atlantic will bring back the majority of its starters, and Oklahoma will have to replace a number of award winners and stars, including Baker Mayfield. I wouldn't pick Lane Kiffin's squad, but I do expect this line to see a lot of action.
Miami (-1) vs. LSU: A pick 'em for all intents and purposes, the Hurricanes bring back far more contributors than the Tigers. Yet, the way Miami finished 2017 with three straight losses is weighing down this line. If you believe in the Hurricanes moving forward this number is potentially very attractive. If you don't, well, I'd probably stay away from this game.